The brain and spinal cord are bathed in a fluid, called cerebrospinal fluid, which is held within a multilayered membrane whose main component is called the "dura."
Epidural anesthesia is accomplished by using a needle to inject small amounts of medication (mainly "local anesthetics" similar to those used for dental procedures) into the patient's back in a space just outside of the dura, where it contacts nerves going to and from the spinal cord.  The local anesthetic causes pain impulses to be anesthetized (or blocked) so that they do not reach the brain.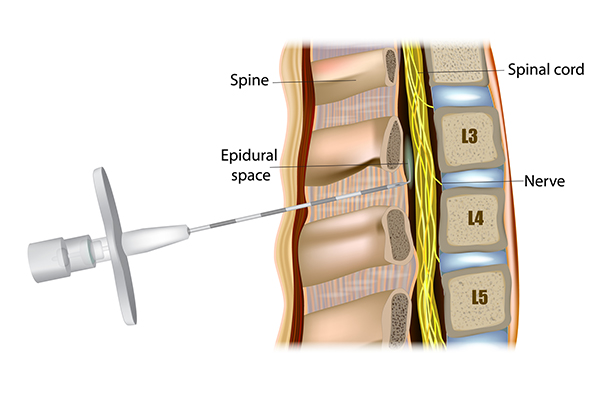 When you get your epidural, a thin plastic tube is placed in the epidural space and connected to a pump. The pump administers a continuous infusion of anesthetic so that the pain-controlling effects will not wear off until after the labor and delivery are completed.
Epidurals are very safe and considered the gold standard for pain control during labor and delivery. Prior to placement, we inject some numbing medicine into the skin of your low back with a very small needle. After this, you should just feel pressure during epidural placement.
The most common adverse effect of epidurals is incomplete pain control (a one-sided or patchy block), which we will be able to treat. Epidural medications can cause decreased blood pressure, so we will monitor your vitals closely after placement. Many women have a sore low back for a day or two, similar to how their arm feels after a flu shot. This gets better with time. There is a small (1-2% chance) of a headache after an epidural. If this occurs, we will examine you and discuss treatment options. Extremely rare complications of epidurals include bleeding, infection, nerve damage, and adverse reactions to medications.
If you decide you would like an epidural, the physicians of MAC are available at Unity Point Health – Meriter Hospital 24 hours a day. We will explain epidurals to you in detail and answer all your questions prior to placing the epidural in your labor room.